Welcome! St. Luke is a small but vibrant and growing church focused on worship of God and service to our neighbor.
We share a church facility with Eagle's Landing Christian Church, located at 1748 Brannan Road in McDonough, GA. We are two churches sharing one campus. You can find us on Google Maps here.
Sunday School for all age groups is at 9:40 am.
Worship is at 11:00 am.
What to Expect in Worship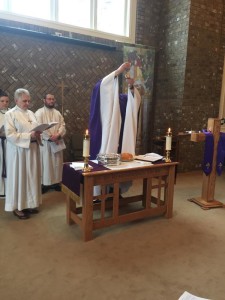 Whether you are a lifelong Lutheran or new to the tradition, you will find St. Luke a warm and comfortable place to worship. You will be greeted at the door upon your arrival, where you will receive a worship bulletin that outlines the service for that day. All you need to know will be found in the bulletin. If you have any questions, someone will be glad to assist you.  A typical Sunday service includes music, prayers, readings, a message from our Pastor, and the celebration of Holy Communion. All who have been baptized in the name of the Father, Son, and Holy Spirit are welcome to receive Holy Communion. While worship may seem a bit formal to some, our atmosphere and attire are both quite casual.
For those with young children under 5, we offer a staffed nursery during the worship hour. Of course, you are always welcome to keep your children in worship with you.
Other Ministries
St. Luke has many opportunities for service, learning and fellowship, including mid-week classes, children and youth groups, Lutheran Men in Mission and Women of the ELCA. Check out our News and Events section for more information.
Still Have Questions?
Feel free to contact the church if you should have any further questions. Pastor Robb is in the office Tuesday-Thursday from 10am-2pm, 678-432-0845, and available via email at pastor_robb(at)storyofgod(dot)org.